Let's face it, boxers are dull.
Found in the timesink that is Something Awful - Manties - Panties made for men, for the discerning gentleman who realises that women's panties simply don't fit properly.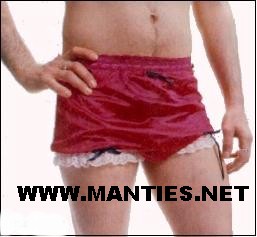 For those nights and days, when you want to be and feel a little special, naughty, and very sexy, these Manties are for you. Once you have them on, it will be "hard" to take them off. They are made of nylon and have the extra room where you need it, for the most comfortable fit there is. Once you try a pair, you will wonder why you never tried them before.

Panties are for the gals

MANties are for the guys
Available in both brief and high cut styles, the number of designs is incredible - lacy numbers, bows and flowers and even embroidered with the days of the week.